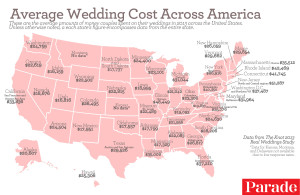 People alway call and ask me what the average price of a wedding is and Parade Magazine typically does state by state research on this every year! Now remember this is an average, which means you are getting base everything depending on your guest count and location. I gotta be honest this really is not an average for an Indian Wedding unless its an Indian Wedding that only has one ceremony that goes straight into a reception and only has a max of 100-150 guests. This would also mean no Sangeet/Garba events pre wedding day. An average DC Indian Wedding with 150 guests going from ceremony to reception is really more like $50k. Now this of course is determined by what your likes and dislikes are, and which venue you are looking at. Either way its good to get a glimpse of where you stand by taking a peek at this map.
T~
If you liked that post, then try these...
DC Brides- Trunk Shows @ Distinctive Designs on September 8th, 2010
.
Mondays Love Notes on February 4th, 2013
Today we start a new feature! Hoping to inspire you when you are Happy, or Sad !! Planning is tough, but remember the end result is you two exchanging words of LOVE!! I hope you also rememeber these words once married, cause thats when it really gets tough, lol!! For Today.
Wedding Gown Monday on February 20th, 2012
OMG, OMG, OMG, need I say more!! .
FIRST LADY'S DESIGN CHOICES on December 10th, 2008
WOW, the forever trendy Michelle Obama has huge decisions to make!! She has many designers preparing sketches for the Inauguration Celebrations.
Leena & Suneils Rain filled day!! on November 19th, 2009
Well, I know you are as shocked as I am, but I am keeping my promise and the Thursday blog is here!!! I even found a cool lil site that helped me to make a video :) Ok so its not that good and the music is terrible, but it was my first try, lol!!!Leena and Suneil had quite a day on August 1st of this year.