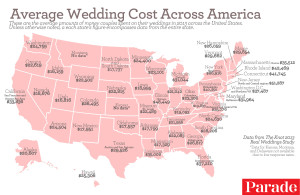 People alway call and ask me what the average price of a wedding is and Parade Magazine typically does state by state research on this every year! Now remember this is an average, which means you are getting base everything depending on your guest count and location. I gotta be honest this really is not an average for an Indian Wedding unless its an Indian Wedding that only has one ceremony that goes straight into a reception and only has a max of 100-150 guests. This would also mean no Sangeet/Garba events pre wedding day. An average DC Indian Wedding with 150 guests going from ceremony to reception is really more like $50k. Now this of course is determined by what your likes and dislikes are, and which venue you are looking at. Either way its good to get a glimpse of where you stand by taking a peek at this map.
T~
If you liked that post, then try these...
Color Palette Thursday on May 7th, 2010
Ok so I am a day late on Thursday color palette entry, but better late than never!! We have had a CRAZY week here at Working Brides so you have to forgive me, lol!!So tomorrow we officially start wedding season and in spirit of that I give you a watermelon citrus color palette.
Be Back Soon on July 30th, 2013
.
Color Palette Thursday on March 10th, 2011
Something about today's colors remind me of candy :) .
tattle tales on March 29th, 2010
.
Monday's Love Notes on February 18th, 2013
.