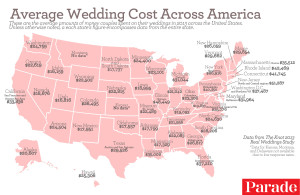 People alway call and ask me what the average price of a wedding is and Parade Magazine typically does state by state research on this every year! Now remember this is an average, which means you are getting base everything depending on your guest count and location. I gotta be honest this really is not an average for an Indian Wedding unless its an Indian Wedding that only has one ceremony that goes straight into a reception and only has a max of 100-150 guests. This would also mean no Sangeet/Garba events pre wedding day. An average DC Indian Wedding with 150 guests going from ceremony to reception is really more like $50k. Now this of course is determined by what your likes and dislikes are, and which venue you are looking at. Either way its good to get a glimpse of where you stand by taking a peek at this map.
T~
If you liked that post, then try these...
Color Palette Thursday on February 26th, 2011
Today I am going with two very traditional India colors that are stunning for Western weddings as well, but don't get much play!!! Yes its bold, but pairing it with white will really cool it down and for the right couple with tons of personality you can have a ball with this palette.
Color Palette Thursday on March 31st, 2011
Since Priyanka decided to go Rouge this week, I decided to punish her with a challenge!!!! Today's color palette is ONE color!!! So Ms Priyanka, I would like to see a monochormatic wedding in GREEN!! Your only option on the accent color is white and black!! And when I say accent I mean accent, very little of those colors should be spotlighted ie chairs!!! I happen to really like green, but an ALL green wedding.
Happy New Year!! on January 3rd, 2013
.
Testimony on August 17th, 2010
.
Facebook Fan Page on June 23rd, 2010
.