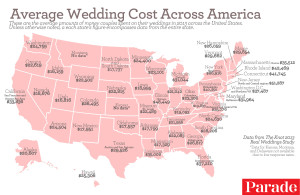 People alway call and ask me what the average price of a wedding is and Parade Magazine typically does state by state research on this every year! Now remember this is an average, which means you are getting base everything depending on your guest count and location. I gotta be honest this really is not an average for an Indian Wedding unless its an Indian Wedding that only has one ceremony that goes straight into a reception and only has a max of 100-150 guests. This would also mean no Sangeet/Garba events pre wedding day. An average DC Indian Wedding with 150 guests going from ceremony to reception is really more like $50k. Now this of course is determined by what your likes and dislikes are, and which venue you are looking at. Either way its good to get a glimpse of where you stand by taking a peek at this map.
T~
If you liked that post, then try these...
Monday's Love Notes on April 15th, 2013
.
LUXURY BRIDAL!!! on August 11th, 2010
Need I say more?? Ok I will :) I just found out about a new Luxury Bridal site that will offer ALL the best designers, Monique L, Reem Acra, Marchesa, Angel Sanchez (love ) and many more!!! It is in beta mode, but sign up now so you will be ready to go when they are!! I don't know much but here is what my email said.
Inspiration Board Tuesday on October 19th, 2010
Apparently Trisha's palette last Thursday is called "All About You".
Kayna & Matts Wedding on June 11th, 2009
Last weekend Sara & I had the pleasure to go to Ocean City for Kayna & Matt's wedding.
Wedding Gown Monday on January 9th, 2012
Welcome 2012 and newly Engaged Ladies & Gents!! 2012 is going to be an exciting year for you and .