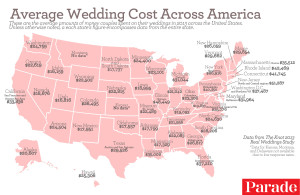 People alway call and ask me what the average price of a wedding is and Parade Magazine typically does state by state research on this every year! Now remember this is an average, which means you are getting base everything depending on your guest count and location. I gotta be honest this really is not an average for an Indian Wedding unless its an Indian Wedding that only has one ceremony that goes straight into a reception and only has a max of 100-150 guests. This would also mean no Sangeet/Garba events pre wedding day. An average DC Indian Wedding with 150 guests going from ceremony to reception is really more like $50k. Now this of course is determined by what your likes and dislikes are, and which venue you are looking at. Either way its good to get a glimpse of where you stand by taking a peek at this map.
T~
If you liked that post, then try these...
Inspiration Board Tuesday on December 7th, 2010
It's good to be back! I hope all you newly engaged bride and grooms are excited about the iPad giveaway.
PANTONES FALL 2013 COLORS on March 20th, 2013
If you know me you know I LOVE playing with color palettes and with the new Pantone colors for Fall 2013 coming out I had to dive in! .
Moina & Amols South Indian Wedding on May 30th, 2014
I love getting to see a wedding video from the past that I never saw before!! I was very happy when .
Sarah & Calems March Wedding on April 3rd, 2011
It has been forever since I have posted a new wedding, I am so sorry for that!!! That said hopefully this gorgeous wedding of the delightful Sarah & Calem will get me off the hook!! As many of you may know we had a crazy March this year with a  .
CAKES, CAKES, CAKES on March 15th, 2010
So today I would really like to have a nice slice of .