Destination Weddings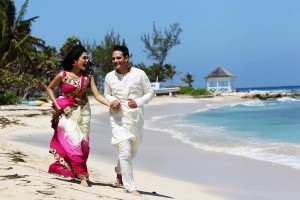 Weddings are always a trip—but some adventurous couples are making their weddings the journey of a lifetime, literally.
From the Caribbean to Europe to Vegas, destination weddings are fast becoming a popular, romantic and fun way to celebrate the big day in style.
But planning a wedding hundreds or thousands of miles away can be a lot of extra work. Working Brides has the experience to make sure your destination wedding is the carefree celebration you've always dreamed of. Imagine the possibilities:
Saying your I do's barefoot in the sand under a Hawaiian sunset
Kissing your groom in a candlelit castle in England or Ireland
Getting married in the shadow of the Eiffel Tower—or on the banks of the River Seine—in Paris
Celebrating on a sunlit mountaintop in Vermont
Enjoying a classy ceremony in a luxury hotel, and then partying all night in Las Vegas
Give us a call to set up a free consultation for your destination wedding!